Product description
Hydrokinetic power plants are designed to be installed on rivers. The water current drives the turbines and the turbines produce electricity. Using such types of plant does not require the accumulation of water. The proposed model can give the power of 30 kWh. Power plants can be installed individually or in groups, thus increasing the power of the installation complex.

The advantages of a hydrokinetic power plant proposed by HCP SA:

Ability to work 24/7,
Low operating costs, low failure rate,
Quick installation on site,
Possibility of replacement,
Easy to use and service,
Occupied water surface area: from 7 x 7m2,
Increase capacity through the installation of several power plants,
No negative impact on the environment.
adaptation
Hydrokinetic power plant convert hydrokinetic energy into electricity. The small hydroelectric power plant is use to satisfy the energy needs of homes and small farms located in the vicinity of rivers.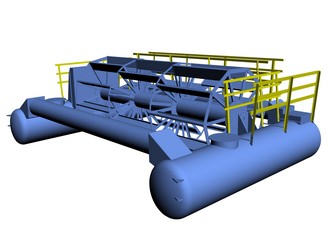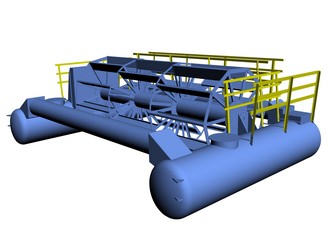 See related
hcp products